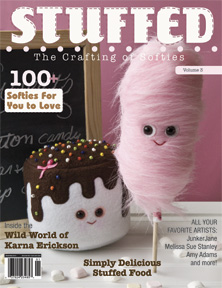 I found this magazine yesterday at JoAnns, and after paging through it for 15 minutes, decided it was worth the 13 dollars.
After I got in line with it, two other women decided to buy it too.
Full of bizarre, misshapen cuteness (and sometimes threatening too).
You can see some screen shots from the latest issue here at the publishers site. Here are some of my favorites!
The evil-Picasso faces are by Cynthia Patton, I love them:)
And the Pickles — they remind me of my favorite doll growing up, Super Pickle!  He wore Chuck Taylors and had a cape with a big P on the back.