I sketched these storyboard scenarios for my Refugee Redesign group's presentation on our 'Voice to Voice' prototype — which would have radio hot spots stationed around a camp.
Here's a first attempt at a system map of how the overall Voice to Voice system would work… its components, the people involved, the placement around the camp, and the main functions:

This scenario shows how a woman passing by on her neighborhood chore route can stop by a hotspot — see what radio show is being broadcast that day — and can leave a message or contribute her story to the broadcast through the tablet interface on the kiosk.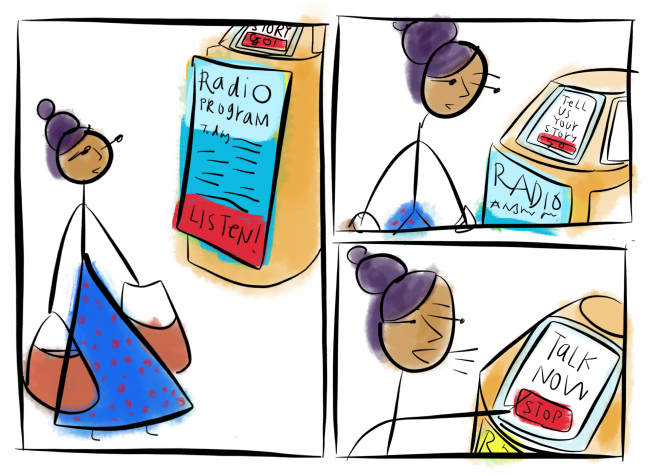 A scenario about how refugees can listen to the broadcasts: at a public hot spot, in their home via radio, or on their own via cell phone.

And finally, a scenario with the roving radio studio.  It comes to a corner in the neighborhood for the day, sets up shop — and the host interviews a UN official about some policy.  Refugees can come listen, and then ask questions or leave comments.  The recording is sent back to the main broadcast studio, when it is edited and transmitted later on.