I am doing lots of painting with the kids, and using all kinds of surfaces to decorate.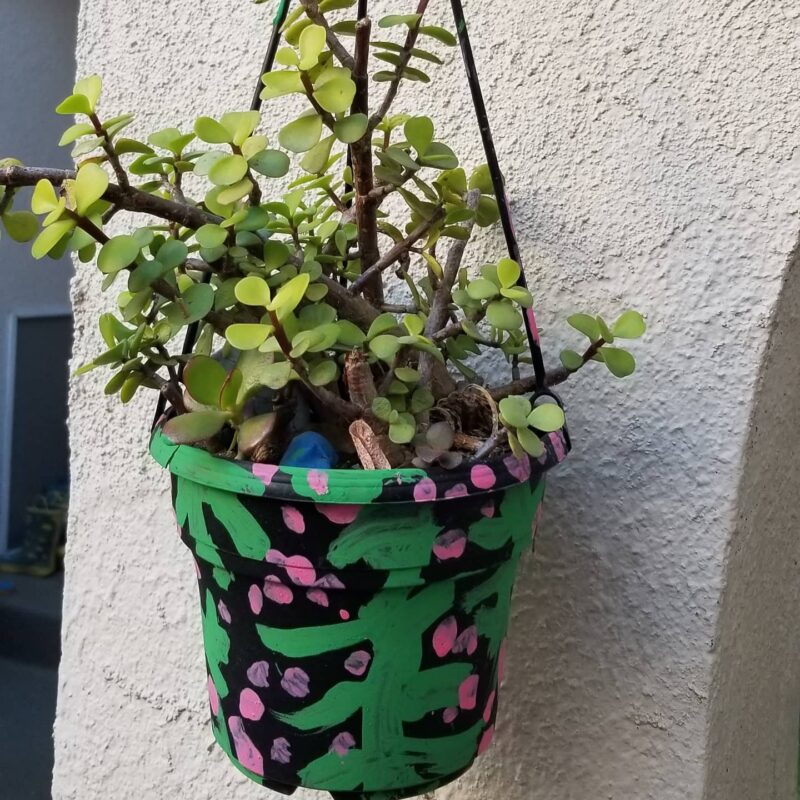 I took one of the hanging black Planters that's been around my home forever. It was from Home Depot. Then with some basic kids paints, I put lots of pink polka dots and then Green Leaf shapes all over it.
How do you transform an ugly plastic planter?
Collect your paints together. Choose only two colors in your palette. If you must go to three.
Taking a basic foam or traditional brush, use one of the colors to put small polka dots all over the planter. Be generous!
Using your other color, fill in some of the empty spaces with a curvy line. Then put other lines off this main line. This will make a nice plant shape.
Be sure to paint the bottom and handles, anywhere that people might see.
Let it dry in the sun for at least 24 hours.
If you like, you can do a second coat to make the colors pop even more.
Once it is fully dried, cover it all in matte finish modge podge.
Let that dry, and you should be good to go!
After we finished our black plastic planter, then we turned to the beige one. There we did a 3 color palette: Green shapes, and pink and blue dots.